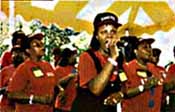 The Whiteville Choir has become a genuine part of American labor history. They were all members of UNITE Local 1077 and worked at the Whiteville Apparel plant in North Carolina . Their albums were recorded and produced by union organizer Phil Cohen.
The Choir has performed at union conferences and picket lines across America, offering inspiration and hope to tens of thousands of working people. They have performed at venues such as The Clearwater Revival, People's Music Network and Duke University .
The Whiteville Choir's rendition of Solidarity Forever was featured an The Acoustic Rainbow Vol. 3 and lit up the airwaves across the US , Europe and Asia .
NAFTA and other free trade agreements ultimately led to the closing of Whiteville Apparel (along with the majority of American clothing and textile plants). However, the Whiteville Choir remained an integral of the Union 's culture and continue to perform at labor conferences.
The union to which they still belong is now known as Workers United, and has become an affiliate of SEIU.
"They are inspiring!...To young and old...to everyone." - Pete Seeger
"I'm pleased to report that the Holy Grail has been found in the inspired singing of the Whiteville Choir" - SingOut Magazine
"They're just too earnest, too happy and too dedicated to their cause" - The Independent (best picks of 1996)
Produced by Phil Cohen
Click here for articles and reviews:
SingOut Magazine
Mother Jones